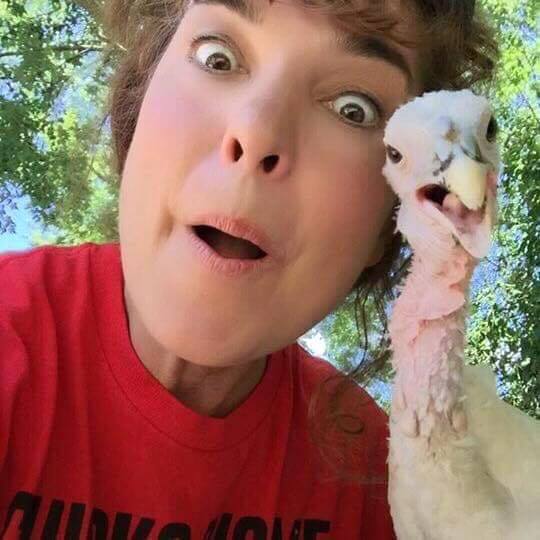 Good morning friends.
Say hello to our great friend Rose Chandler and her pet Rosie. This is one of the best people and animal pictures I have ever seen. As many of you know, Rosie is a big time animal rehabber and overall animal lover.
The title of this story is, "It's a duck, no, it's a chicken, wait wait, It's actually a turkey. Incredible story below by Rose Chandler.  Story below;
"Rosie is Royal Palm turkey. Two years ago I had a single baby Wood Duck and it was on the verge of dying because they do not do well in captivity or alone. So I googled on Facebook search ducks and Lucky Duck Landing farm popped up, it said they did not open till 8 o'clock the next morning.
At 8 o'clock the next morning the Wood Duck was still hanging on. So I called them and told them I was not a crazy person, I was a rehabber and I have a little Wood Duck that was going to die if I did not find a baby hatchling Duckling to go with it. They told me they would loan me the baby that they had just hatched because they do not normally hatch babies and it was all alone, but when I was done with it, I would need to give the baby back.
Long story short, Lucky Duck Landing farms have been trying to hatch baby turkeys for quite some time. Little did they know, they had hatched a baby turkey. I went to pick the hatchling up and was shocked because I assumed it would be a baby duck and they thought it was a baby chicken. But as Rosie started growing, we both learned that Rosie was in fact a turkey.
Because I have spoiled her so much they could not take her back. They had asked me to just keep as her life would be better is she just stayed put. And because Rosie, that Wood Duck went on to live and she did make an appearance last winter in our canal to come see Rosie. I bawled like a baby when they got together after two years. She has been a mama to all the rehab babies that come thru here"
Now friends, is that story one for the books or what ? — Life is just full of surprises.
Have a great Wednesday. Scott Smith for Sammy & Family.