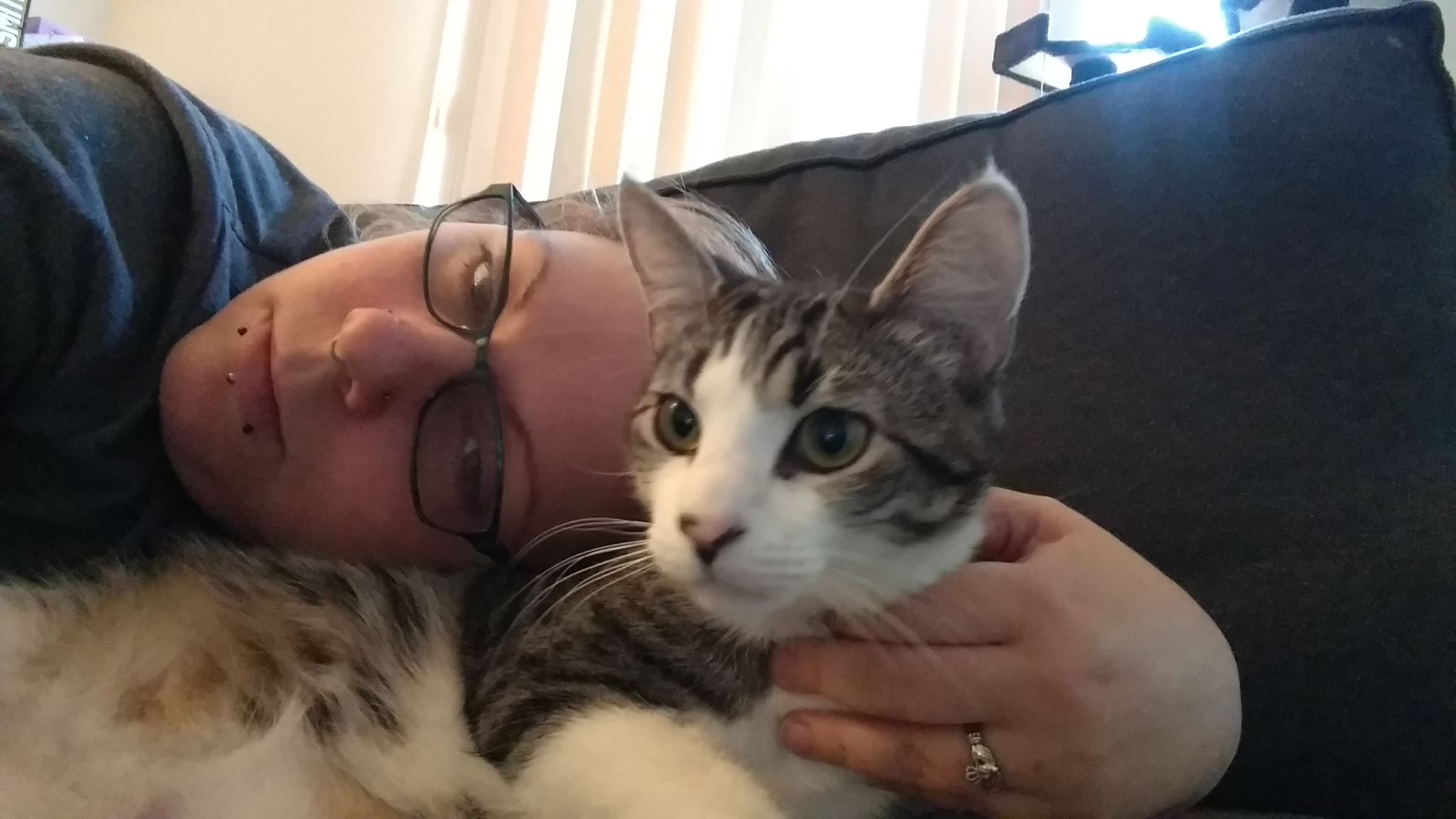 Good evening friends.
We have a very special visitor tonight. This is our great friend, Kristin, and her rescue, Jaqen. — Kristin actually rescued Jaqen and his brother, Jon, who is not in the picture.  They are 8 months old now and were raised by a foster after their mother died.
These two cats were graced with two miracles. Firstly, with their foster, and secondly, when Kristin took them in permanently. The worst is officially behind them.
Sammy & Family met Kristin a few years back while she was visiting NYC. She's a big time animal lover.
I really love this picture. I found it very moving. Animals are so healing. They really have a calming affect on people
One night Kristin wrote a story for our friends from around the world called, "No thanks, I'll sit with the dog"  — The story is about a person who had social anxieties and took comfort in sitting next to a dog at a house party one night.
Kristin, thank you for sharing this picture with us. More importantly, thank you for making the world a better place, two rescues at a time.
None of us can change everything, but everyone can change something. And Kristin did just that by offering Jaqen and Jon a great life.
Friends, if anyone ever wants to share their pet's or family's story with us, we would be happy to write about it and post it throughout our platforms. We also would be honored to write prayer requests for animals and people in need. We also do really nice tributes for lost loved ones, both animals and people again.
As many of you already know, we've been writing across these topics for years. I personally find it very healing and humbling writing prayers and tributes. The people requesting the prayers and / or  tributes have always found it soothing as well.
I hope everyone had a marvelous New Years Day. Signing off from Puerto Rico, Scott Smith for Sammy & Family.
Comments
comments