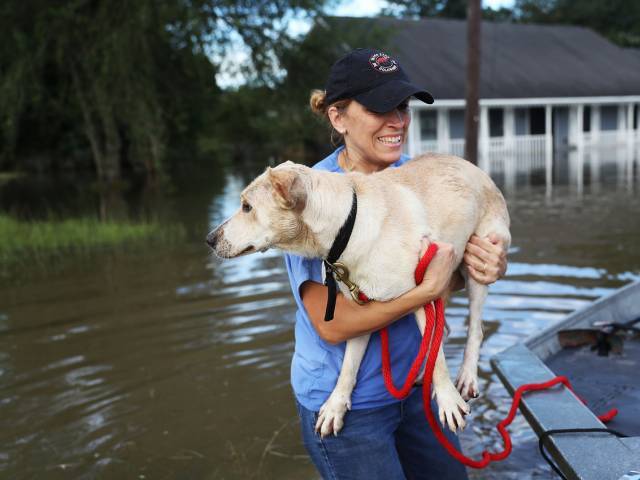 Photo Credit; Tribune.com
Good evening friends.
Tonight we take it to Louisiana where they were hit with their worst flood since 1983. The Red Cross said the flood in Louisiana is worst U.S. Disaster since Hurricane Sandy. Total devastation. Let's not forget that Katrina was only 11 years back, not too long ago.
Some of the overall statistics are incomprehensible. More than 100,000 Louisianians were affected. 40,000 homes damaged, 30,000 people rescued, 11 people killed. 75 percent of the homes damaged were not insured.
Today on the news, I almost didn't believe what i saw, but I did see it, a group of Cows in the middle of the street with water up to their necks.
About 2 feet of rain fell over a 48 hour period and turned Baton Rouge and surrounding areas into disaster relief zones.  Right now the Red Cross is organizing a massive $30 Million relief operation and numbers are expected to grow.
This is going to be a long road to recovery. People and animals lives have been turned upside down. I was talking to a friend from Louisiana today about what happens to all these people day to day from here. On one hand, you have the government and Louisiana planning the recovery and the rebuild, and on the other hand, you have tens of thousands of people displaced.
If Katrina is any kind of forecast, FEMA will provide trailers for people to live in on their properties until the housing situation is under control.
In 1983, The Amite River at Denham Springs, near Baton Rouge, reached a 46.2 feet earlier this week, astonishingly higher than the 41.5 feet record seen in 1983. That's from CNBC.
Sammy & Family sends our thoughts and prayers to all the people and animals that have been affected by this devastating flood.
Here are some links where people can donate if they like. Sammy & Family will be making a donation, every bit counts.
The Red Cross is accepting: Donations via telephone. Call 1-800-REDCROSS or text LAFLOODS to 90999 to donate $10.
Companion Animal Alliance, Baton Rouge's city animal shelter
Needs: Foster homes to house pets temporarily, large bath towels, paper towels, water and food for volunteers and staff. Donations can be made online to assist with these needs by going to the organization's website, http://www.CAABR.org
The second Harvest food back trying to feed over 180,000 people; http://no-hunger.org/disaster-response/
The Humane Society of Louisiana for animals; http://news.humanela.org/
Comments
comments