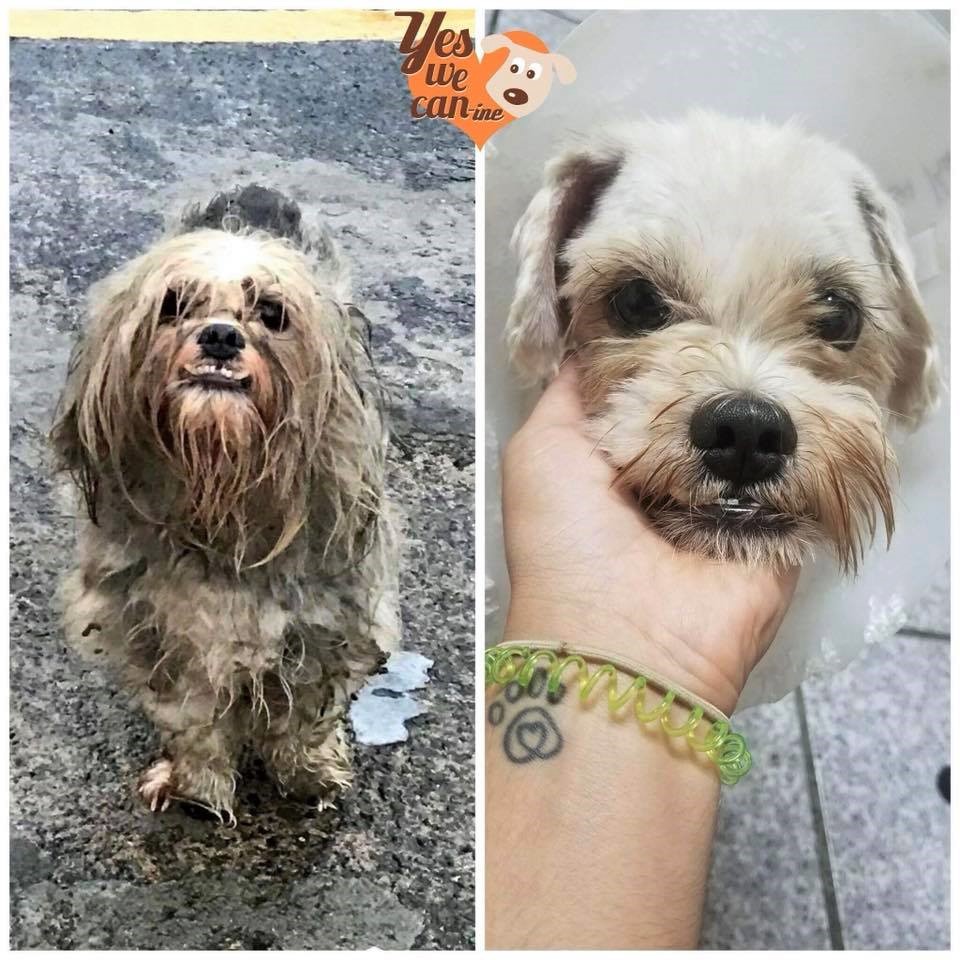 Because leaving her was not an option.
Good evening friends,
Say hello to a miracle named, Miracle. There could be No other name for this little angel right here.
I first met Miracle on November 8th, just three weeks ago. As you can see on the left, she was in unfathomable condition. She was filthy dirty, her hair was completely matted, her nails were disfigured, and shes smelled terrible. Like terrible in a sick way. It had been raining on and off for days. Miracle was lost and disoriented.
When I stepped out of my car that morning, this poor soul just walked up to me and looked at me just like you see on the left side of the picture. Miracle was letting me that she can't make alone anymore.
Between living on the street and living through Hurricane María, life had taken her to the breaking point. This was the end of the line right here.
I had put some food down for her, but she hardly ate anything. As I tried to get closer to her, she kept backing up. This went on for about 10 minutes until she decided to run for good. I couldn't believe it. As desperate as she was for help, and her life being on the line, fear outplayed all of that.
I called my friends from Yes We CAN-ine. We spent two hours trying to catch her. But, she kept getting away. Eventually we lost her that night altogether.
Over the next week I had seen her a couple of times. At this point, she knew who I was and did not trust me. I couldn't get near her.
Long story short, we put the word out about her to the animal rescue world here in Puerto Rico. On November 18th, after a 3 hour chase, two people managed to catch her. They turned her over to the Veterinary facility that we use.
Miracle had all sorts of infections and a bad tumor all over her Gentile area. Fortunately, the tumor was benign and is being treated.
For the first time in her life, Miracle is surrounded by love and care. And as such, she feels happy and is learning how to be social. Her personality is as sweet as can be.
Miracle is only 2 years old. She lived alone for two years on the street.
On November 8th, when I first encountered her, I knew the horrible life she was living was about to end, either by death, or me bridging her back to a new life. Fortunately, it was the latter. That is why I named her Miracle. She's the little trooper that against all odds, pulled through and made it to the other side.
Looking back, as for "Yes We CAN-nine" and myself, leaving her was just not an option. It was a non starter.
One random act of kindness may not change the world, but it changes the world for the recipient of that kindness. We all have that power. On November 8th, The Lucky in Love Fund and "Yes We CAN-nine" distributed that power to a broken spirit, who's blossoming now like flowers do in the month May.
No lives will go in vain. No pain will go unnoticed. Amen. Scott Smith for Sammy & Family.
Comments
comments