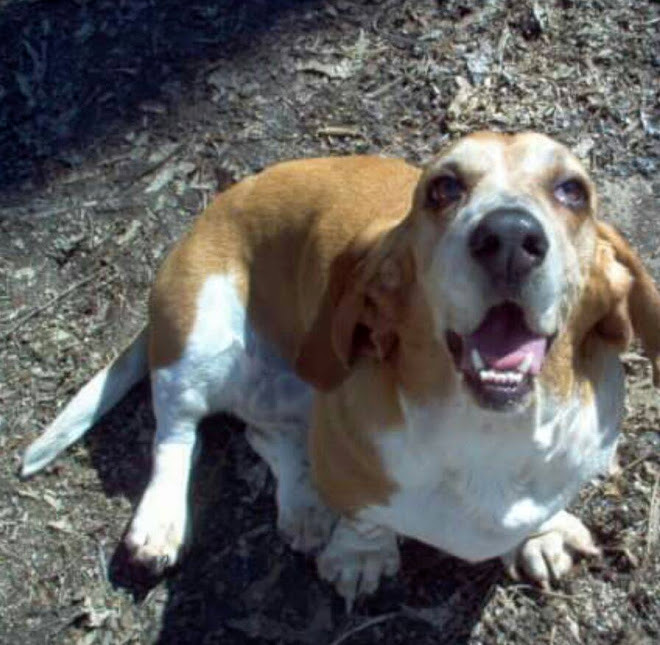 Good evening friends.
Tonight's post is called, "Redbird was my baby. She was my Heart Hound" — This post is a tribute for a Redbird, a fallen angel as of July 22nd, 2015.
Redbird was a family member of our great friend, Alexandria O'hara Wright and family.
Many a times I have mentioned animals are angels walking amonst us. No better depiction of that than is love story.
Alexandria had just gone through a very painful miscarriage and her two prior Basset Hounds had passed a few years prior. We can all relate to that. Sometimes when life hits, life hits hard. These were tough times for Alexandria back in 2004 / 2005.
Alexandria's husband had recommended they get a new Basset Hound and Alexandria was totally on board. If anyone can lift a person's spirits, a dog can. That's why we see them in emergency rooms at hospitals. Animals are natural born healers.
Interestingly enough, after taking Redbird on, a year later Alexandria realized they'd taken home a completely different basset hound then the one they intended on taking home. Alexandria's mother in law had pictures from a year earlier that showed different markings then the markings on Redbird.
But you'll know the drill here. After one year of bonding with a pet, no shot you give them up. You just keep on loving them. And that is exactly what Alexandria did. She loved precious, stubborn and adorable Redbird more than life itself.
Alexandria got Redbird on February 28th, 2005. Originally her name was Little Miss Red. But as time moved on and the love kept growing, millions of names flew through the door before they settled on "Redbird"
As animal lovers its easy to relate to madness of the name picking process. The more we love them and learn about hem, the more names and tones we use for them.
Redbird liked to chase chickens other than the few that she was best friends with. She was a fierce protector of Alexandria and family's 20 acre farm. She chased wild hogs to ground hogs and anything in between. Redbird was very short to the ground as Basset Hounds are known to be, but in her mind she was 15 feet tall and bulletproof.
I love how Alexandria described Redbird's confidence. I've always found that love is what puts the wind in our pet's sails. So for Redbird to have that kind of confidence is a testament to the kind of love she was shown.
Fun story about Redbird. She loved to chase hummingbirds off of the family's porch away from the feeders thinking they were hornets. So every time Alexandria brought the feeder outside, Redbird would look at her like she was out of her mind.
Alexandria pointed out how amazing it was to know her every thought just by the look in her eyes. And vice versa believe it or not. Redbird and Alexandria were like peas and carrots. Best friends forever. She and Redbird had multiple conversations daily.
Redbird also loved belly rubs, being brushed, long walks, rides in the car and riding on the 4 wheelers with us. She also appreciated long naps, ice cream and food of any kind.
We wrote about people having conversations with their pets just last week. You see, it's actually quite common. People have conversations with their pets all the time. Full fledged conversations mind you.
I'm going to quote Alexandria in this next paragraph. It's too perfect to edit or paraphrase.
"RedBird was my best friend, my walking partner, my confidant and my heart hound. I never had to leash her or keep her gated as she had no desire to leave my side…after finding what I thought was an abscess tooth I scheduled an appointment with the vet thinking maybe the tooth would be surgically removed. Unfortunately within 3 days of hat vet visit we were sending my precious baby to the rainbow bridge. The gum above her tooth had a tumor called a melanoma. And apparently it had spread from a stomach cancer that we never knew she had. We slept face to face her last 2 nights on this earth and I sent her to the bridge on July 22nd 2015. I have never loved anything as much as I loved RedBird. She was without a doubt my baby and my heart hound"
Alexandria, thank you for sharing Redbird's story with us. It's been about 18 months since her passing and your story and precise descriptions of Redbird resonated right through our screens and into our hearts.
Redbird might be gone, but will Never be forgotten. She made the world a better place. In the end, it's like they say, "We rescue them and then they rescue us"
The story of you and Redbird had to happen. I have been writing about animals for the past 5 to 6 years. I will always remember what you said, "She is without a doubt my baby and my heart hound"
Sammy & Family thanks Alexandria and family for making the world a better place, one animal at a time. None of us can change everything. But everyone can change something. Alexandria did just that and changed the world for Redbird, the 15 foot giant.
No lives will go in vain. No pain will go unnoticed. Amen. Scott Smith for Sammy & Family.
Comments
comments