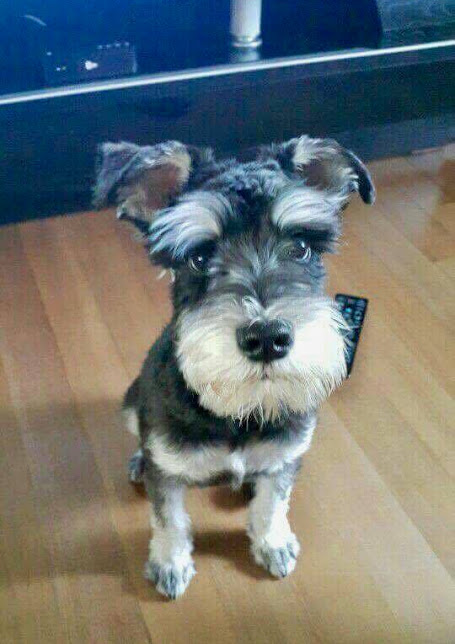 Good evening friends.
We have a very special story tonight. Please say hello to Remy, a beautiful sweet Schnauzer. The story of Remy is truly a story of miracles.
Remy belongs to our great friends, Deb Dun Magathan and her husband, Larry, both retired now living on the Jersey Shore. They were originally from Pennsylvania
Deb and her family are big time animal lovers. Over the years they have had many many dogs and several kinds of other animals too, including a pig named, Miss Higgins. They always had mini schnauzers up until their last angel passed about a year ago.
One night, Deb's daughter, Samantha, excitedly texted her about a mini Schnauzer she saw on Facebook. When Deb saw the dog she immediately showed Larry and they immediately knew they had to have him in their lives.
Here's where it got a little Dicey. Deb had no idea Remy was in Korea and the post had been 12 hours old already. There were many people who wanted Remy.
Deb quickly reached out over FB messenger to Patti Kim in California. Patti works with Jindo Love Rescue for Korean Dogs and Patti could tell how bad Deb and Larry wanted Remy, and picked them.
From there, on January 13th, 2016, Remy flew 19 hours from Korea to JFK International in New York What a little trooper this little fella is.
Remy had a rough life before he was rescued by Jindo Love Rescue. He was being physically abused by the owner's boyfriend. She gave him up to a kill shelter. This kill shelter sells the dogs to the meat traders in Korea. This is not against the law there in Korea. Jindo Love goes to these places, rescues the dogs and finds homes for them. Deb mentioned that Remy is such a happy lovebug, you'd never know he'd been abused. Animals are so grateful like that.
Sammy & Family has written about the dog and cat meat trade throughout Asia many times over the years. Had this miracle not taken place, Remy was either going to be put down, or worse off, end up circulating in the dog meat trade destined for a horrific ending. An unspeakable ending.
Quick mention on Jindo Love Rescue.
In order to facilitate these rescues from Korea,  Patti Kim out of California and their point person in Shanghai China, Su, coordinate with their fosters in Korea and miraculously bring dogs to the states for a brand new life.
Jindo Love is not a nonprofit or registered organization. They are a group of individuals who pool their own money to rescue dogs from the dog meat trade and high kill shelters.
Sammy & Family wants to thank Deb and Larry for making the world a better place several animals at a time.
We also want to thank Patti Kim and Jindo Love for their tireless commitment towards getting innocent dogs out of Korea and into loving families and homes stateside.
In a world with so much pain, thank God we have incredible people and organizations like this on the front lines for animals everyday.
None of us can change everything, but everyone can change something. A random act of kindness may not change the world, but it changes the world for the recipients of that kindness.
No lives will go in vain. No pain will go unnoticed. Scott Smith for Sammy & Family.
Comments
comments