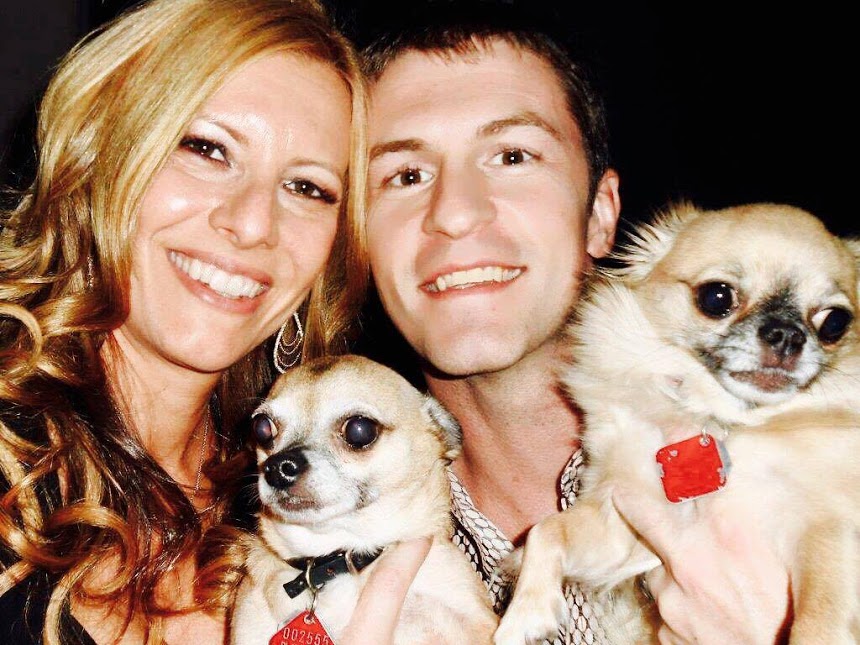 Good evening friends.
We have very special story tonight. Say hello to Gabriella Botalla-Bell and family. From left to right, Gabriella, Diesel, a 15 year old short haired male Chihuahua, Gabriela's husband, Chris, and Gucci Bear, an 8 year old long haired female Chihuahua.
Gabriella and family also have a 5 year old bunny rabbit named Millie Vanilli. Yes, that Millie Vanilli. Gabriella loves music from the 80's. We can all relate to that. I still have a crush on Debbie Gibson as you all know and my favorite band of all time is Def Leppard.
Now normally, one would think that two dogs and a rabbit would trigger the phrase, Three's a crowd" — But not this time friends. Diesel, Gucci Bear and Milli Vanilli are more like "The Three Musketeers". Things are so chummy with these Musketeers, that Milli Vanilli, the bunny rabbit, sometimes thinks he's a dog.
Ok, we have some fun facts here on how Diesel and Gucci Bear got their name.
Let's start with Diesel. — Gabriella loves the smell of gasoline, Diesel is an Italian Designer as we all know, and Gabriella's mother is 100 percent Italian. Put it all altogether and it just had to be "Diesel"
Chris came up with the name for Gucci Bear – Gucci, as in the designer we all know, and Bear because when she was a baby she looked like a bear. Chris was always thinking about trademarking her name so nobody else can use it. For for all intensive purposes, please nobody use that name, lol.
When push comes to shove, no matter what their names are, Diesel, Gucci Bear and Milli Vanilli are the loves of their loves as Gabriella put it so perfectly today.
Diesel and Gucci are in love with Chris, he spoils them like crazy. I guess it's true what they say, "Dogs are Man's best friend.  I always thought they meant "Man" as a specie, but maybe it's literal as in gender, lol.
As for Millie, that is Gabriella's baby. He gives her kisses and behaves just like dogs do.
Gabriella and Chirs, thank you for sharing the story of your pets with us tonight. I really enjoyed learning about them. As animal loving people, we all have our own methodology of how we communicate with them and what we name them.
If anyone ever overheard me talking to my 6 dogs, anyone in their right mind would be like, "That guy is crazy, he literally talks to his dogs"
But in the end, whether its this idiosyncrasy, or that methodology, it's like Gabriella said, "They are the loves of our lives"
Sammy & Family wants to thank Gabriella and Chris for making the world a better place, three animals at a time.
The Path to a better World flows through the Humane treatment of all Animals"
Sincerely, Scott Smith for Sammy & Family.
Comments
comments