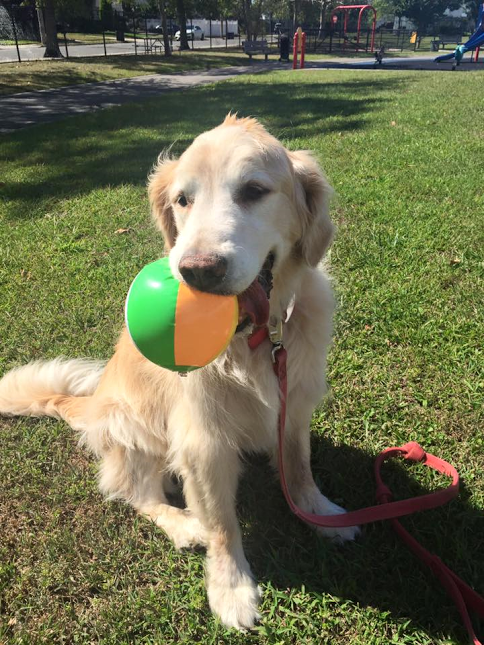 Good evening friends.
Tonight we pay tribute to a fallen angel named Westy. The world lost one of it's brightest stars.
This beautiful sweet Golden retriever belonged to my great friend, Chantelle Luxenberg and family. Westy passed away in his sleep on January 31st, 2017. He did not suffer. Westy passed away peacefully from natural causes.
When I originally heard the news from Chantelle, I almost fell off my chair. Just a few months ago we talked about doing an evening post about Westy for our friends from around the world.
And then in a blink of an eye, he was gone. Life can be like that. It's a reminder that everyday is a gift. Tomorrow is never guaranteed.
Westy and my Sammy used to have playdates when they were both coming up in the world. When Sammy and Westey were both 2, 3, and 4 years of age, they had seen each other quite a bit.
Westy was so good with Sammy. Being he was 70 pounds and Sammy was only 10 pounds, Westy was very delicate with him. He knew the exact level of strength to use with Sammy in order to play with him and not hurt him.
I always loved knowing Chantelle and Westy were close by. Those were very dark years back then for me. It was nice to feel a sense of family with Chantelle and Westy close by.
Chantelle and Westy were like peas and carrots. Inseparable. If Westly could speak he probably could've finished Chantelle's sentences for her. And Chantelle knew every move that Westy would make before he even made it. They were truly in unison with one another.
Westy was such a grateful dog. Whether running through the sprinkler system, playing in the leaves or frolicking in the snow, Westy was always celebrating life.
He knew life was about the simple things. It takes some people decades to figure that out. And some never do.
Westy loved car rides with the windows open or the top down. Chantelle and Westy took many roads over the years to the Hamptons, Vermont, Boston and everywhere in between.
Westy was extremely active. He could run a hundred times to fetch a tennis ball. He loved to play tug of war with an old sock too. When it came to toys, Westy was singular of purpose, rip out the stuffing and find the squeaky part.
Back at the house Westy would follow Chantelle around from room to room. It was like Chantelle had two shadows. Many of can relate to that. We are everything to our pets. We're all they have.
The world is better place because Westy was in it. This Golden Retriever was truly Golden.
Sammy & Family wants to thank Chantelle for making the world a better place one animal at a time. A random act of kindness may not change the world, but it changes the world for the recipient of that kindness. Chantelle changed Westy's world when she took him home 12 years ago.
When the mourning subsides, we won't be crying because it's over, we'll be smiling because it happened.
Westy is gone, but he'll never be forgotten. One day we'll all see this sweet prince again.
No lives will go in vain. No pain will unnoticed. Scott Smith for Sammy & Family.
Comments
comments